Ready, Set, Go!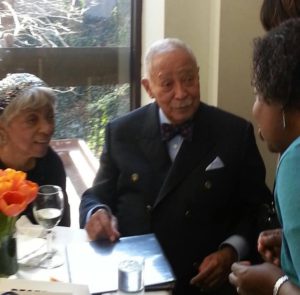 "If you want to lift yourself up, lift up someone else." – Booker T. Washington
Collaboration can come in all shapes and sizes-or ways and means. I recently attended a women's leadership event in my area that was well planned and executed. The event drew an extremely large number of local women. I can hear your questions already: "what's the problem? Isn't that a great opportunity to network?" Like most attendees, I formulated a deliberate plan prior to the event. I wanted to meet a specific number of women in certain businesses that I felt I could help. When I arrived, it became clear that the size of the event might prevent real collaboration and connections. When the event is too big or there is too much going on, it becomes a bit of sensory overload. Too many nearby conversations, bright lights, a large event space with lots of vendor booths all combined can be detrimental to a networking plan. I witnessed other attendees leaving the event for those very reasons. Don't get me wrong, large events can yield great connections. Just don't put all your eggs in that basket. We all learned about diversification in 2008.
Casual venues can yield actionable connections just as well as an 800-person event. Every time you leave the house or office, it's a potential networking opportunity. I'm reminded of a bio that I read for a local area business woman. She says her career in this industry began when she ran into "so and so" in the bread aisle of the local grocery store 30 years ago. So… before you go running down to the corner market to do some casual networking, let me say this: not all conversations will bring about a mutually beneficial collaboration. Be choosy. Make sure that you both have a similar approach to business or even the same sense of urgency. If partners are not well matched, working together can leave one or the other feeling some anxiety. 'What's in It for Me' works both ways.
Goals don't have to be in lockstep to make a fruitful collaboration. It's probably better that you're not stepping on each other's toes. A connection doesn't even have to be financial. I recently met another businesswoman at a networking event. We have similar personalities and have become each other's biggest cheerleader as we bring our ideas to market. Our common denominator is communication and a willingness to dialogue about those ideas.
I'm just saying, you can fish in a small pond and still bring home a whale.
I welcome you to connect and reach out on BVisible Blog, LinkedIn, Twitter, Facebook or Instagram or for virtual coffee or tea. Have an amazing and profitable day.
https://www.bvisible.solutions/wp-content/uploads/2018/10/logoBVisible_Black_on_White_300_dpi_i_dot-moved.png
0
0
admin
https://www.bvisible.solutions/wp-content/uploads/2018/10/logoBVisible_Black_on_White_300_dpi_i_dot-moved.png
admin
2023-02-10 16:20:41
2023-02-10 17:00:45
Ready, Set, Go!